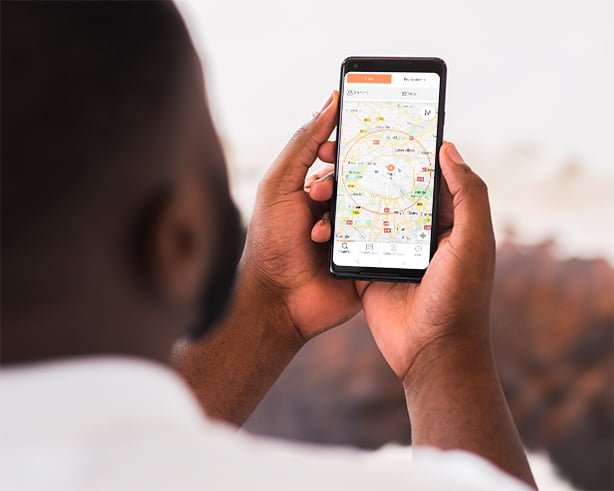 Fully digital mobile user journeys
Our mobile applications ensure that every user can easily access mobility from their smartphones.
Carsharing services should be easy to use and offer a seamless experience. Our flexible technology allows our clients to build their own customer journey based on their needs. From registration to accessing the vehicle, our mobile applications ensure a fully mobile service. Our technology addresses the common problem of network connectivity deep inside parking garages by using Bluetooth technology to unlock vehicles. If you prefer, the technology can adapt to enable badge access to your vehicles.
Designed with you and your users in mind, everything you might need to get going is right at your fingertips.
An administrative platform designed for you
Our administrative back office has been designed to help alleviate many of the pain points fleet managers experience so you can manage everything easily from your desk.
From one centralised platform, you can monitor the status and utilisation of your vehicles while also follow the registrations of your users.  You can easily visualise the reservations made on your vehicles and you can follow the status of each and every reservation.  Reviewing vehicle damages has never been easier with the ability to analyse user-submitted damage reports accompanied with pictures.
You can manage your service, manage your vehicles and manage your users in one place that is accessible from any web browser.
Our clients take advantage of many different functionalities, but here are some of our most talked about features.
At glide.io, we place an emphasis on supporting our customers, working to simplify each mobility project for our clients. This requires a variety of skills and profiles on our teams (technological expertise, operational excellence, communications), that are able to accompany clients through the phases of design, development and launching of every project.
Multimodal mobility is become more and more relevant.  Our platform is not only optimized for traditional cars, but it is also able to manage smaller vehicles like the increasingly popular electric scooters. 
Hardware Agnostic Software
Our platform is adaptable to integrate with different telematic devices on the market.  You can create unique user experiences whether you use a third-party hardware or a vehicle manufacturer's integrated hardware.  If you need hardware, you can take advantage of our established working relationships with manufacturer-approved suppliers.
Interested in our technology?